BENEFITS
Confidence EQ® pheromone 1% gel can help reduce the behavioral and physiological symptoms of stress in horses of any age.
Training tool –

Can be combined with behavioral and desensitization therapy.

Safe for competition –

Not listed on the FEI prohibited substance list.

Fast & long-lasting –

Takes effect in 30 minutes, lasts 2.5 hours, and can be reapplied as needed.

Single-use packets –

Ensure accurate dose every time.

Easy to administer –

No syringes, mixing food, pills or other uncomfortable application methods that can add stress to the horse.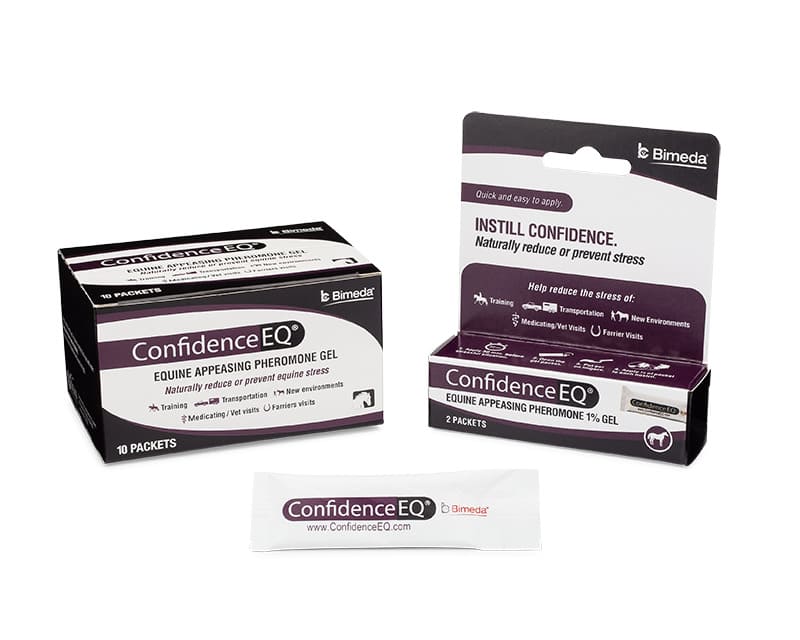 WHEN TO USE CONFIDENCE EQ®
Horses are sensitive to their environment and can overreact when faced with stressful situations such as:
Horses in these situations may show signs of stress such as pawing, vocalizing, flared nostrils, kicking, lack of concentration, and resistance. These behavioral changes are due to an elevated cortisol level, which when prolonged, also triggers multiple physiological responses like increased heart rate and blood pressure, weakening of the immune system, cribbing, and digestive issues—all of which can develop into significant problems for owners, trainers and veterinary practitioners.
Instilling confidence with Confidence EQ® pheromone is a proven way to help horses deal with new or unexpected stimuli.