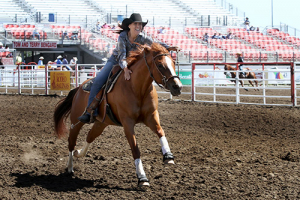 In the last few years, my horse has developed a gate issue. Once, my horse reared straight up and jumped — very dangerous! After that episode, my veterinarian of 20 years recommended trying ConfidenceEQ. Now, my horse is well behaved at the gate, which gives us the best chance for a good, clean run. All my competitors have noticed the change and are talking about how good he's going in. This is the most incredible product I have ever used! My horse is now respectful at the gate, and it makes competing much more enjoyable.
CHRISTY BURLESON, BARREL RACER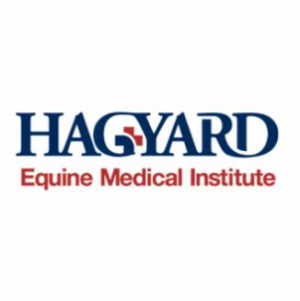 I have used Confidence EQ many times and am very pleased with this product. I have used it with my own anxious horses that consistently paw and damage the floor mats in the trailer when going to a show. I found that when using Confidence EQ they looked relaxed when unloading. In addition, I also have used it on animals that would not enter a starting gate and horses that I am moving away from companions to a new barn. Typically these horses would pace the stall when separated from friends. With Confidence EQ they eat well and are comfortable. These are just a few instances where I have used this product successfully. I recommend this product as a useful tool in helping horses manage stressful situations.
NATHAN SLOVIS, DVM, DIPL. ACVIM, CHT (CERTIFIED HYPERBARIC TECHNOLOGIST)
HAGYARD EQUINE MEDICAL INSTITUTE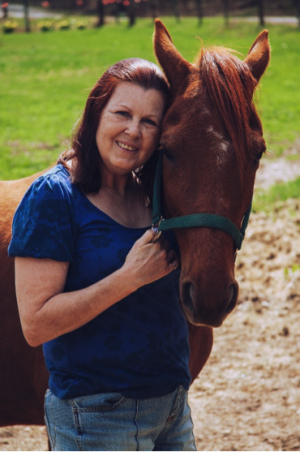 While on a ride, my horse and I were attacked by an unbroken six-year-old Arabian stud who had gotten away from his owner. We were both traumatized. He wouldn't even go past our property when I tried to ride him a couple of days after the incident. I called my veterinarian to see if there was anything I could give him to help him get through this trauma. He recommended ConfidenceEQ. The first time I used it on him, it was evident he was easier to work with. We can now go on our favorite trails without him shaking, flaring his nostrils, repeatedly backing up and basically refusing to go off of our property. I would highly recommend ConfidenceEQ to anyone having problems with their horses due to fearful or traumatic situations; it really works!
BRENDA MADSEN, TRAIL RIDER